I thought I'd add a little page cause the information I gathered on here was a little bit off.
this thread will explain which lights to change for the gauges and climate control, if you're going to change the bulbs, I see no reason not to use LEDs, cause once you put LEDs in you'll never have to replace a burnt bulb again!
I personally swapped blue LEDs into mine, but if you wanna keep it looking stock I would suggest using white LEDS over regular white bulbs, I did this swap cause I burnt out a few of my bulbs just removing my gauges for a tach swap.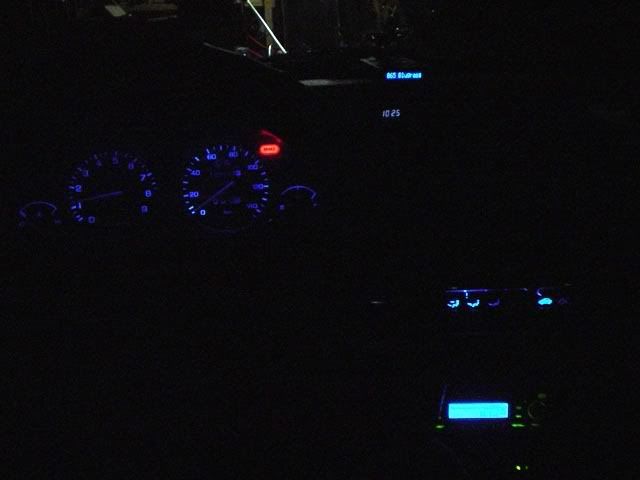 <br>

there is an example of what a blue led swap looks like, note that the lighting in the picture looks a little uneven… it's actually not uneven but the camera picked it up that way
first of all, you'll need your vent dash out, there are already instructions on the forums but I will advise… be very careful, I cracked mine.
then remove the gauges with four screws, unplug three wiring harnesses and unclip the speedo cable (during reinstall it will make it a lot easier if you pull slack through the firewall)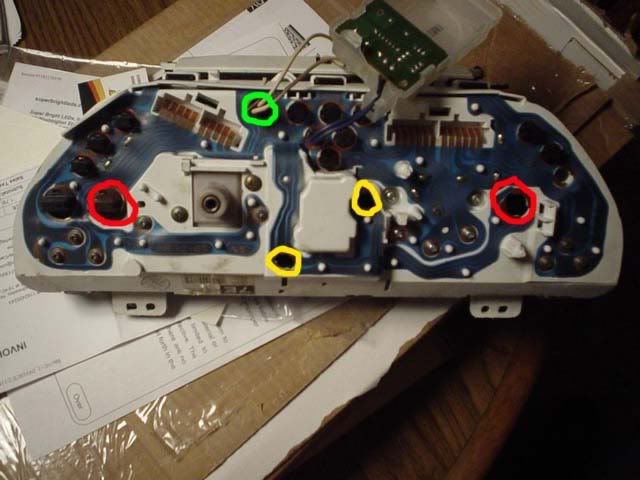 rear gauge cluster


gauge cluster top lighting (lights up needles) yes… The needles will light up in your color of choice!!


climate control lighting… fix your buttons if they're broke while you're in there, easy 5 minutes of soldering
those three pics show the lights that need replace for the gauges and climate controls
I got all my bulbs off http://www.superbrightleds.com/
the reds are 158s stock, they'll be replaced with 194s (perfect fit)
the greens are some odd size stock, 74s will fit
the yellows are the brown light holders, the 74s are too little for them, you'll need T1.5-B 74s instead, they're 74s with a built in base
you'll want wedge type leds, the have a wide angle of light instead of a straight on beam
total needed bulbs
2x 194 (wedge type LEDs)
5x 74s (wedge type LEDs)
2x T1.5-B 74s (wedge type LEDs)
get extra!!! I broke a bulb and lost one… they're inexpensive so if I were you'd I'd just prepare
this differs from previous threads, I recommend getting the 74s with the built in base for reason 1, my stock bulbs were melted into the plasic and broken and got stuck inside the base, and 2, the 74s wiggle and could fall out.
for the top green one on the back of the gauge clutser, you'll have to bend in the metal clips a little to get the 74 to stay, for the other brown bases get lights with bases
hopefully this can help someone out… if anyone has instructions on changing the buttons or clock… feel free to add on… I didn't go that far but someone else may want to
the main reason I did this swap is because the stock bulbs burn out real easy if you bump them or something… and blue looks cool!