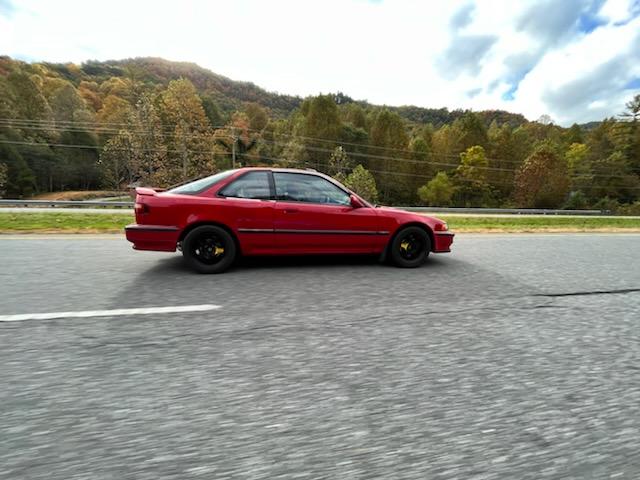 Picked up a 92 Ls summer of 22. Also a rusted one came with the deal but I sold that one . The car is from Texas Im from Ohio so no rust and Im geeked on that. Has a clean b20 swap with "70000" on it. Looks and runs like it. Gsr cable transmission with lsd. All stock not even an air intake.
Suspension
Function and Form coilovers. Not a fan i think they are really old. Would like to change them out. Front Hard race upper control arms. Lower control arm all replaced with hardrace bushings Has a asr sway bar. Rear has hardrace upper and lower control arms with toe arms. Trailing arm bushing is replaced with hardrace. Have a sway bar but waiting to get a place before installing. Power steering is deleted but plan to put it back in dont care about the weight savings a will take a shit.
I bought two Integras this summer. The red one no rust and the blue one with a ton of rust. I also received two b18a1 two transmissions. Extra mud flaps. A new clutch still in the honda bad ebrake lines. Extra alternator starters distributers. Manual seatbelt conversion nuts and bolts picked it all up for 3800 bucks.
I have so many pictures but since im new i can only post one for now.