hey guys, been a lurker on the g2ic forum for some time and felt i would finally introduce myself and my da and a previous build
I am from vancouver. part of the local Revscene forum also.
amyways. a few months ago i picked up a 93 captivia LS ater my boosted Ed hatch was stolen and ive been working on it since.
started out life with me as a bone stock ls with 440km on it so understandably the body wasnt/isnt perfect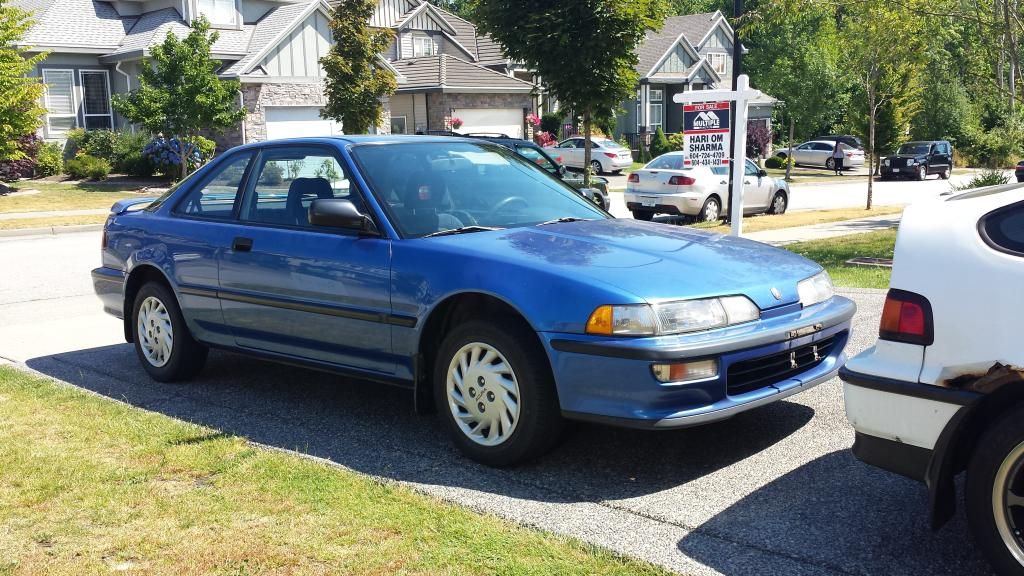 i had no plans for this car. after the amount of time and money sunk into my hatch and having it stolen i really wasnt interested in a project… until my gf and sister started conspiring to get me car parts and that got the ball rolling
and within a week or so all the POS ebay parts started arriving
like with any aftermarket light housing i suggesting re sealing them before install. it just makes life alot easier.
and wth this build i trying to kinda replicate what idid to my hatch so i ordered alot of the same/similar parts
1st up, spoon style mirrors… because stock ones are huge. i made large foam gaskets out of foam sheets you can get at any craft store. hels seal them up nice so air dosnt get behind them and cause a draft in the car (previous experience)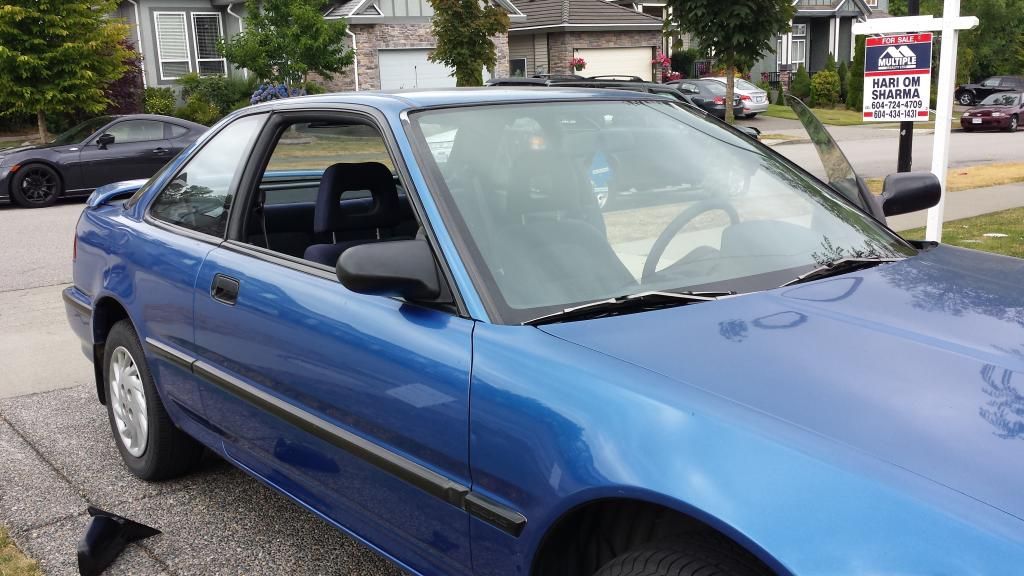 next was to lower it. i picked these bwr's up brand new in box and i was told they were ef/da… well they were dc/eg. you can change the front fork to make them it… but the heights are just so different that its very inpractical to run them like this. the backs at its highest level and the fronts completely slammed and itjust sat level.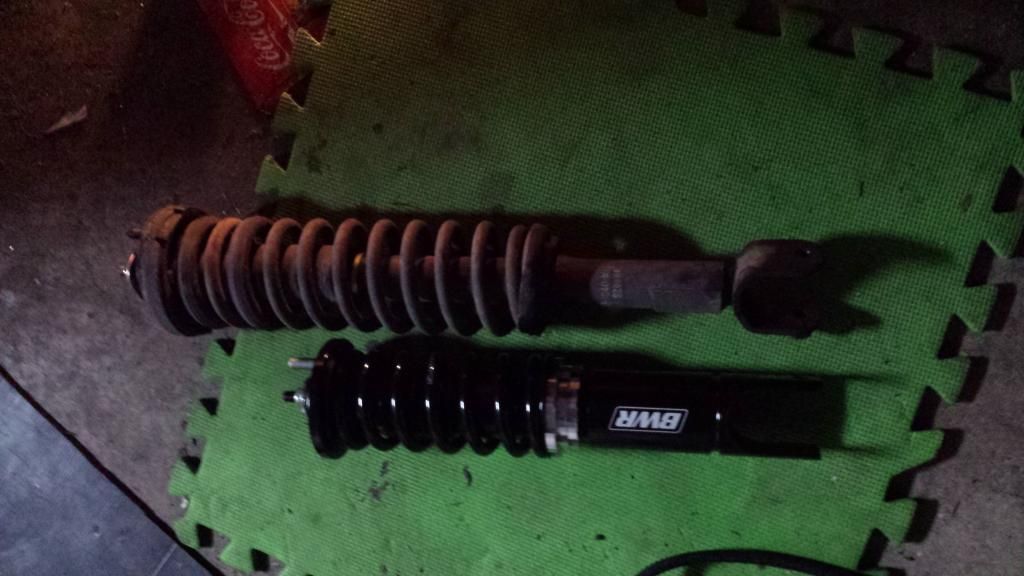 so it wasnt long before i sold them and got the yonakas. i did alot of research before i made this purchase and ill admit i did cheap out a little bit but my over all reveiw is that for the money they are great quality and ride. they claim to have a 10k spring rate up front and 6k in rear or something. to help balance the car i also preloaded the rear a bit more and that seems to have made it even
the main downside of the yonakas is they don really go "slammed" u mess with the preload… im not a huge fan of that personally so i didnt bother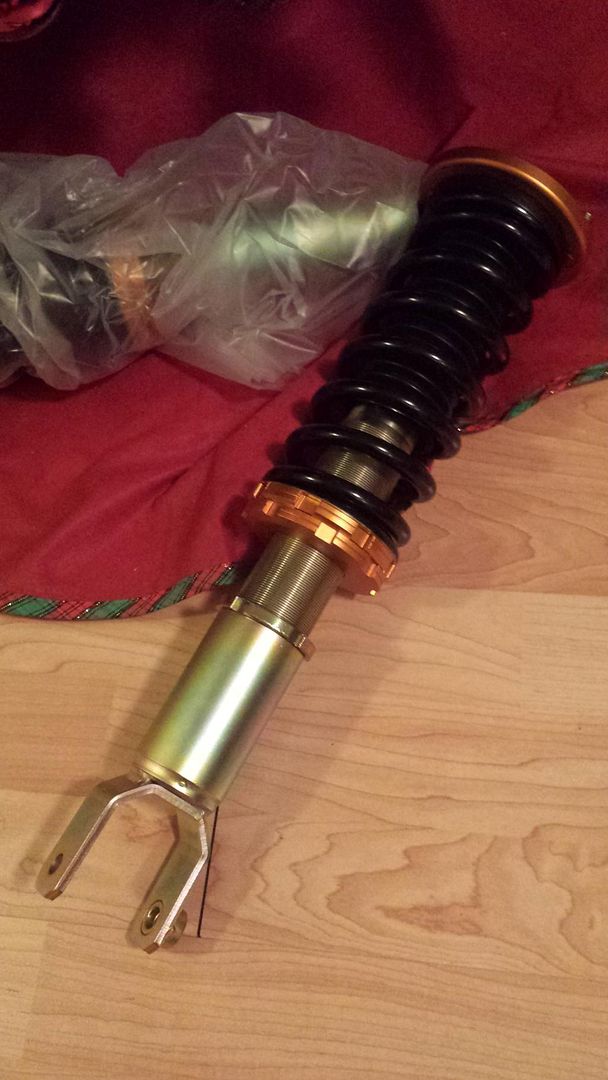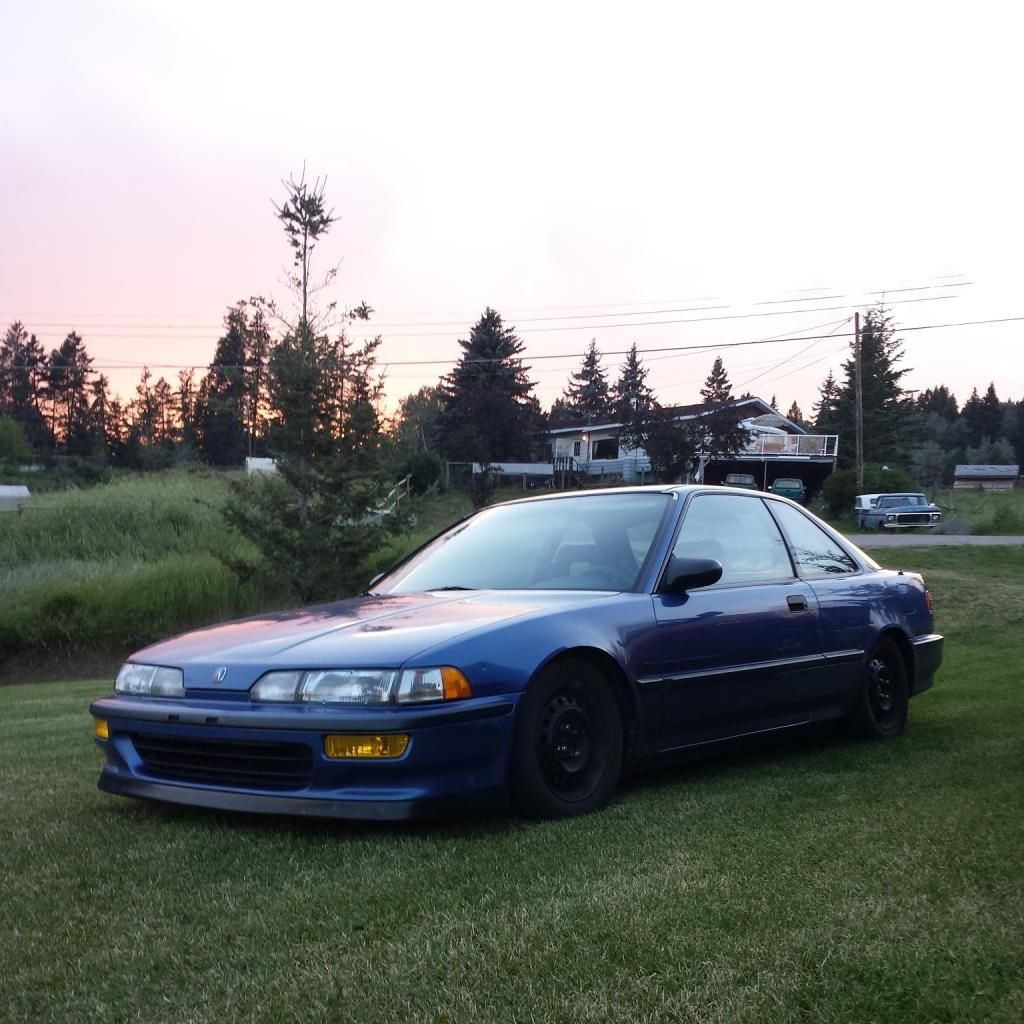 and obviously i couldnt just let it sit on steelies so i wanted some sort of ridiculous wheel size. i chose a 16x8+0 rota grid v. 15's are way too small on the DA chassis imo, they look like smarties on these cars… not wheel. and i was very happy with them but i didnt realize how difficult pulling the rear fenders were so i ended up with 4.5 degree camber and that wasnt working for me… so shortly after i ended up selling the wheel setup
a local member heard what happened to my hatch and basically donated me the jdm one piece headlights that are in mint condition… so it wasnt long before those got thrown on. i modified a 9005 hid to fit instead of the halogen h4h.
the bulb needed like 1mm of plastic trimmed and it fit right in.
i also wired up the fog lights to run separate from the running lights so now they turn on when the button is pressed. not just when the running lights are on. there are quite a few write ups on google bout it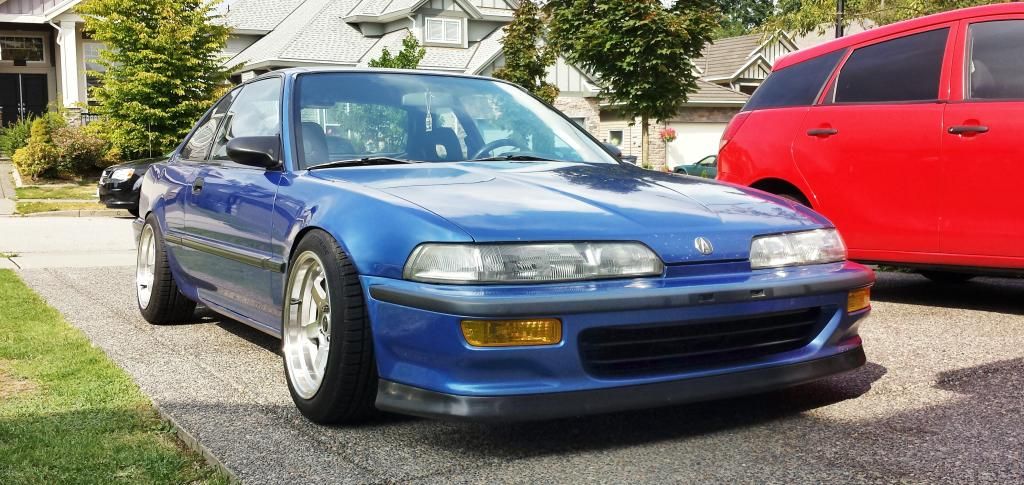 and i got a hood bra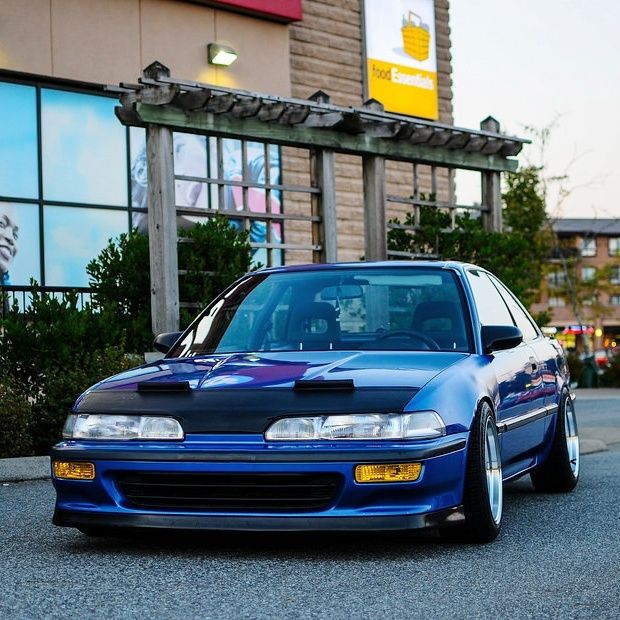 and i took it off shortly after putting it on, went to the wreckers and gabbed a bunch of honda badges because my acura ones were toast
i forget what ones i ended up using, but i think one was off an accord and another was a crv iirc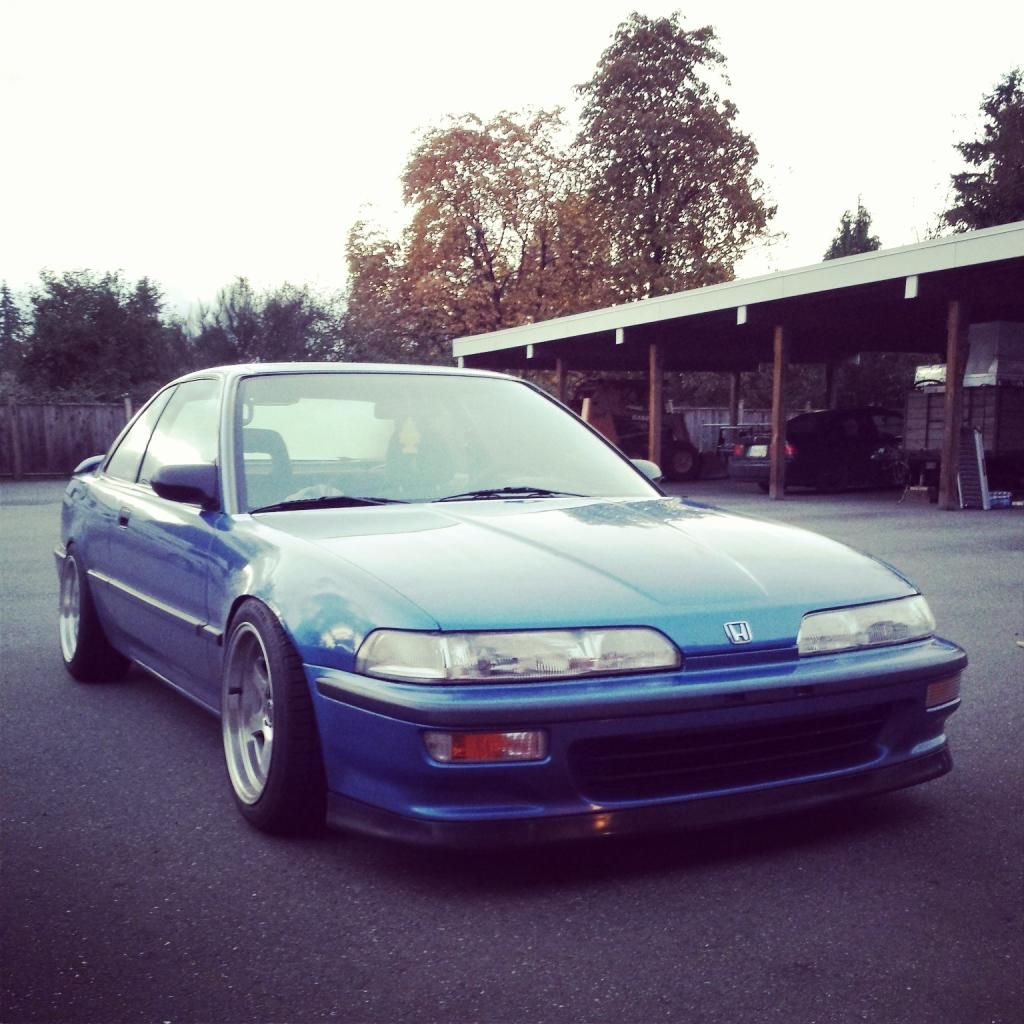 shortly after i picked of some stainless 2.5" catback from ebay and i was amazed with how good it sounded. im not talking your typical ricey loud bees in a can noise. its deep and pretty quite. i bought it with the intentions of cuttong out the muffler and welding in a magnaflow or somethiing but once it was on i liked it enough to keep it. i dont have a picture of it, but i cut off the 4.5" tip and its running a 3" stainless with a 45degree cut on it now. its a little small so eventually i will run a second 3" kinda blastpipe style to fill in the holl in the bumper
and then i started working on the interior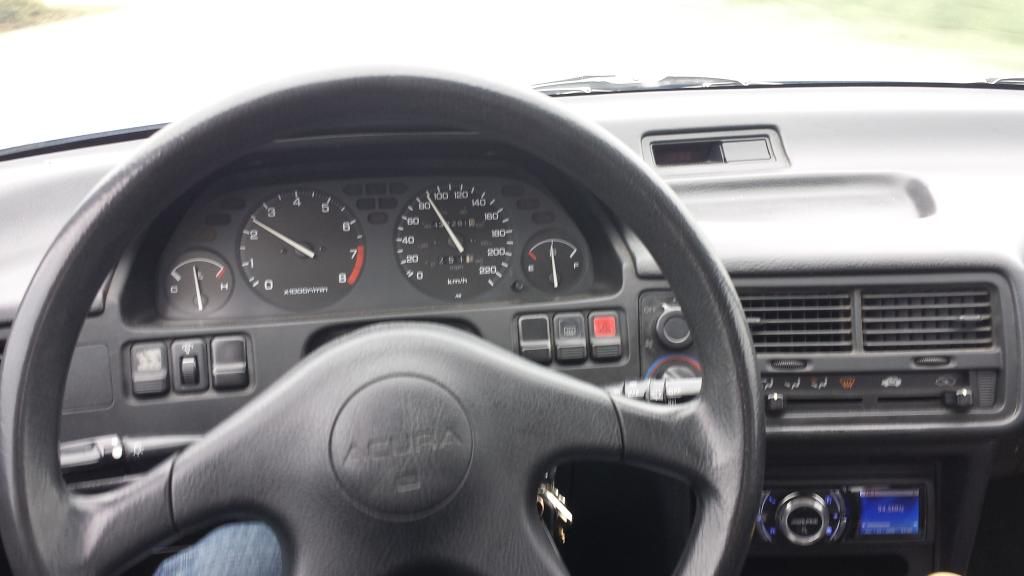 i got tired of the cluster pretty quick… so i did this
it was recently my birthday so my g got me the nrg 2.5 carbon quick release to match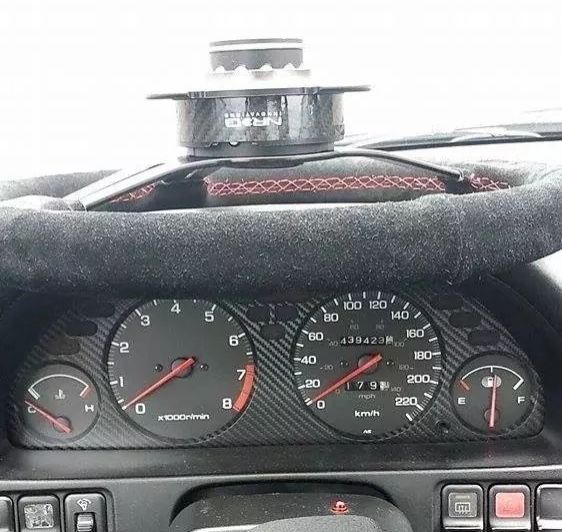 i decided to make a new trunk insert and line it with a mat i found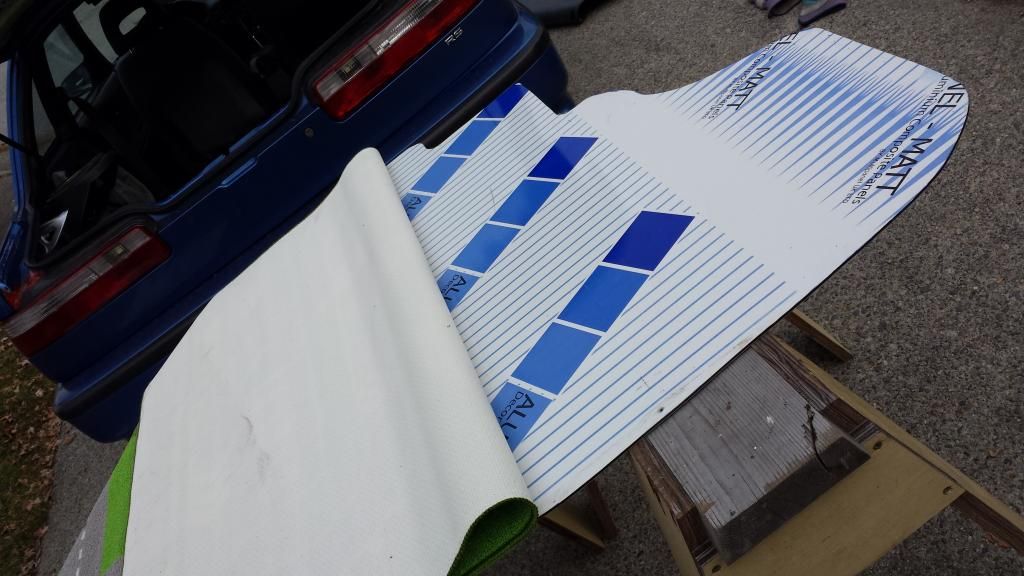 i pciked up some sound deadening and some thick foam tape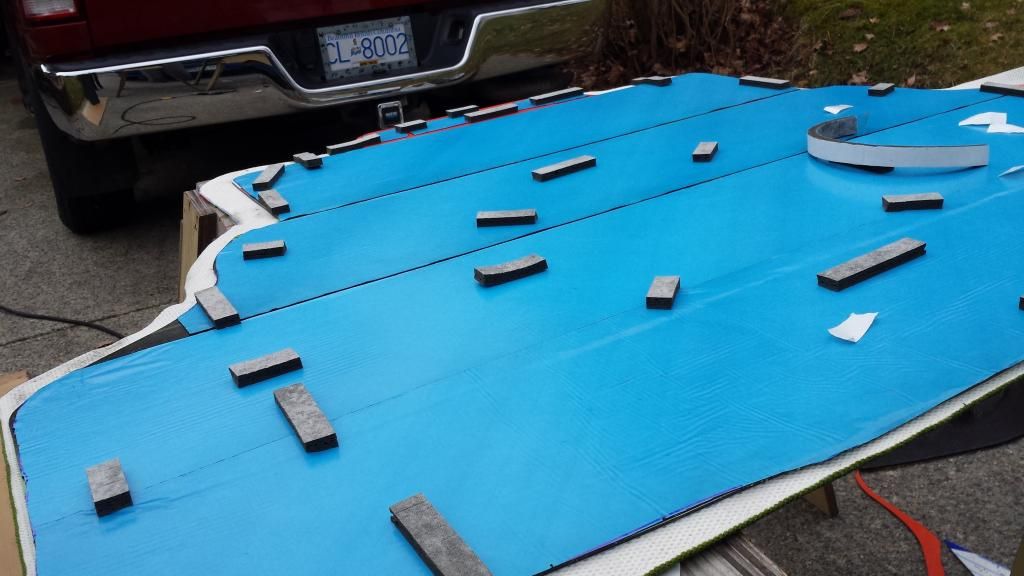 and here is the semi finished product
you cant really tell but i trimmed about1.5" off of this window visor. it dipped down way to much and to me looked terrible. with it beign trimmed i find it more aggressive and also a it more subtle of that makes sense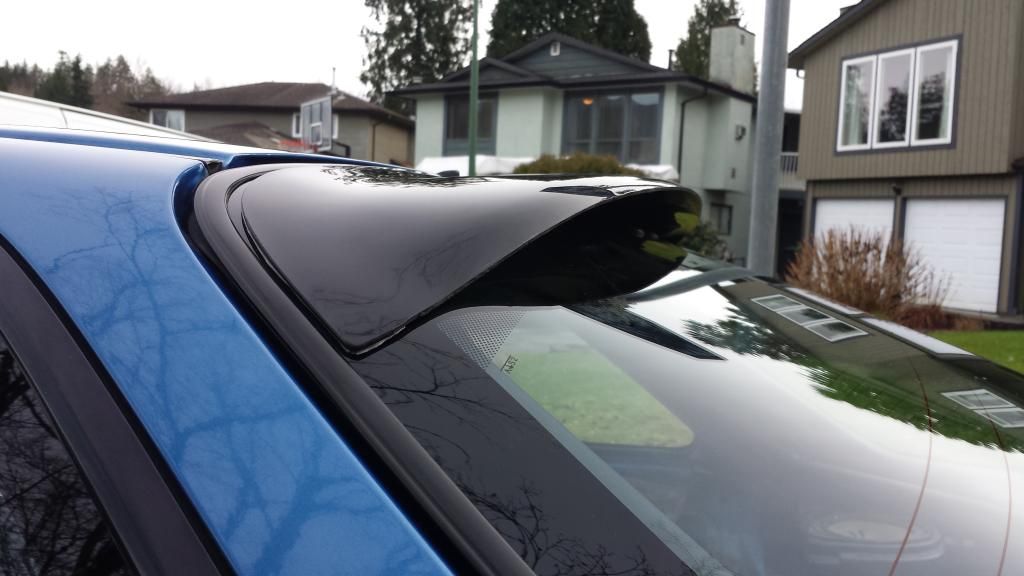 i also picked up some gsr front and back seats… so understandably the door cards and arm rest didnt match so i set to work with that… what a headache but will be so worth it when i finish
so i wrapped the arm rest with a sweater i had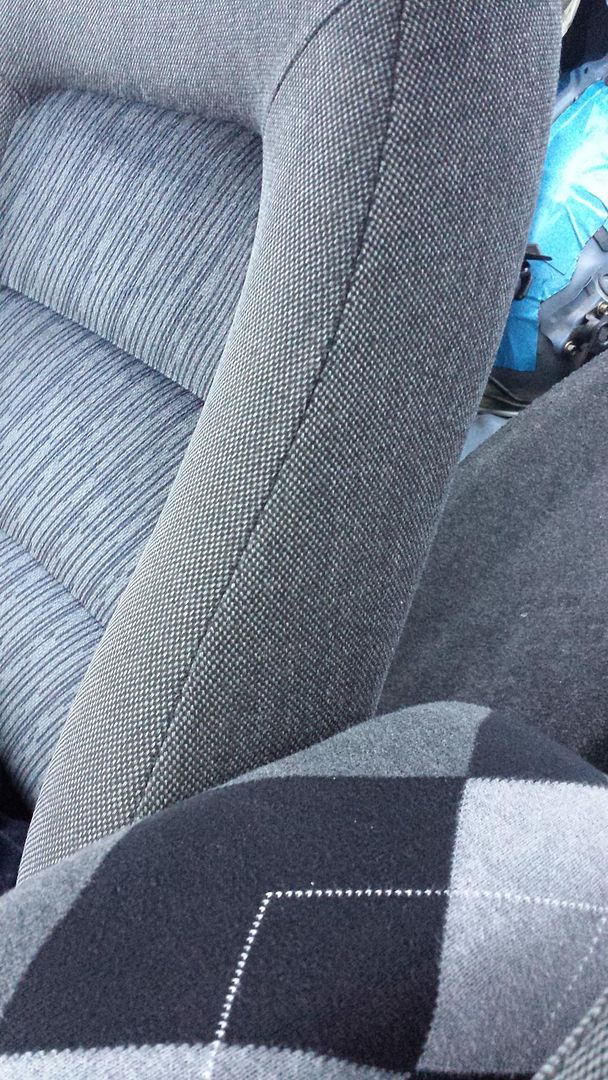 same with my rear speaker covers… ps look at that hairy leg!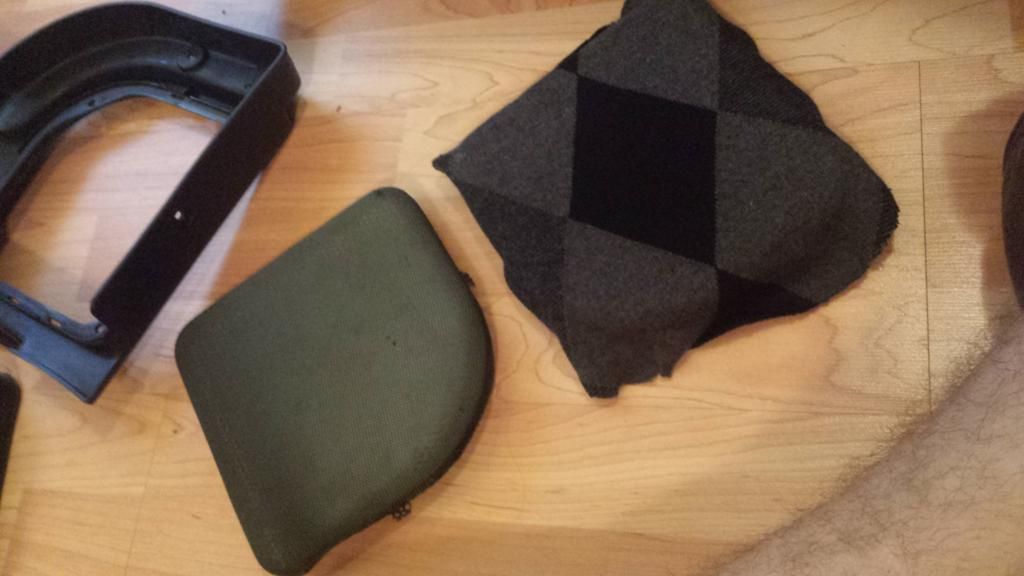 and then found the closest fabric that i could to match the seats… turns out its kinda a light grey denim… thats not flexible and made this part very difficult
i used 3m adhesive spray and ALOT of time. the rear fabric inserts remover from the panel… the fronts do not. so after the fabric is placed (i suggest something flexible) you need to rim the edge to fit in the crease
i ended up getting some craft glue and some black elastic cord. once my fabric was tucked in the crease i set some glue in there and frced the cord in the crease and imo it looks great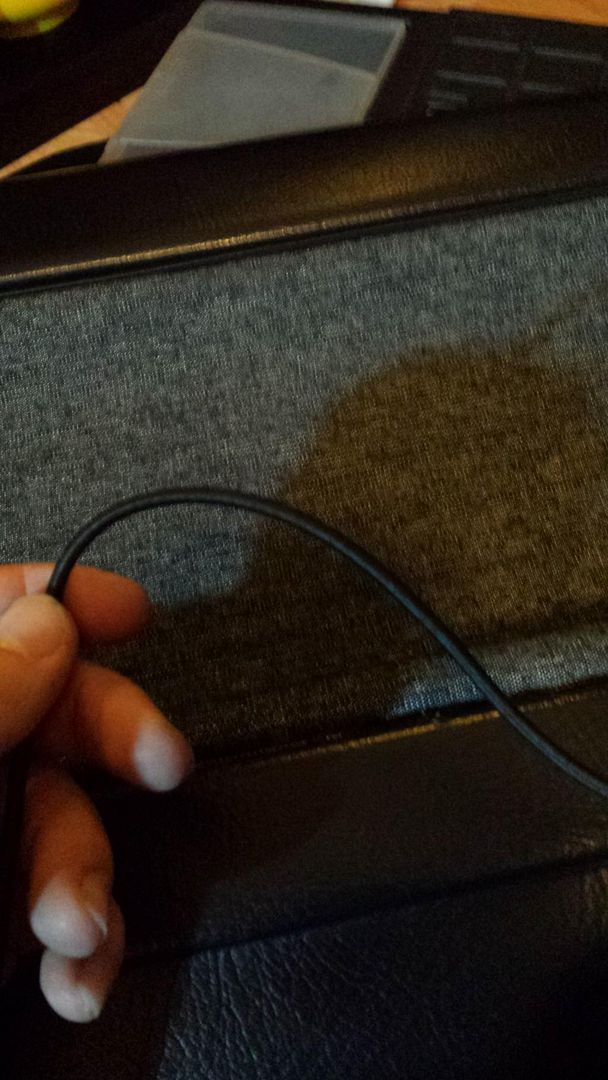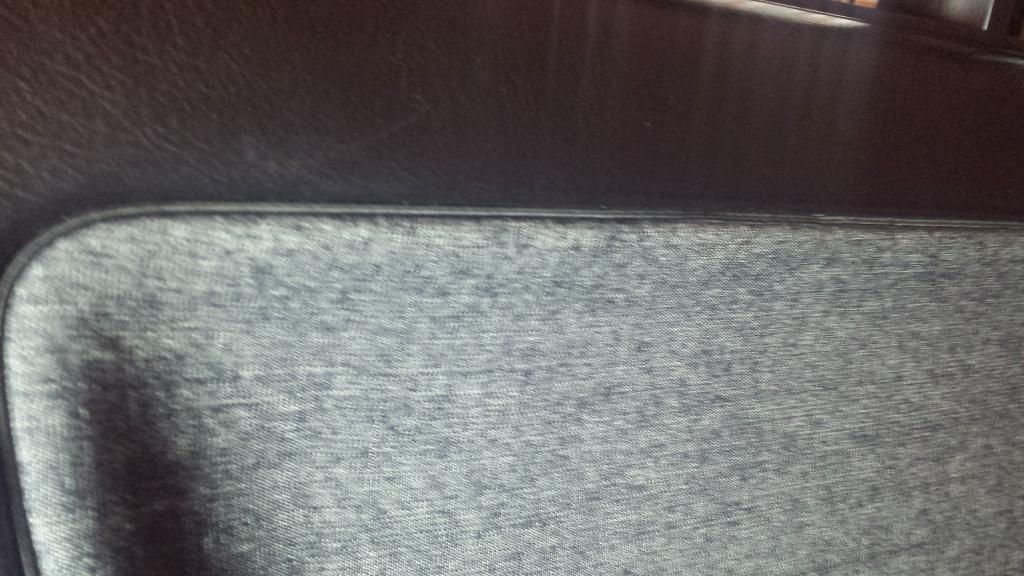 as goes for the rears… remember when i said the denim was hard to work with. it was nearly impossible to lay it without having alot of creases so i decided to get the fabric wet and stretch it into place, i used marbles to kinda weigh down the deeper areas over night and they are trying as we speak. from the looks of it, it seems to be working, so once it dries i will be able to glue it in.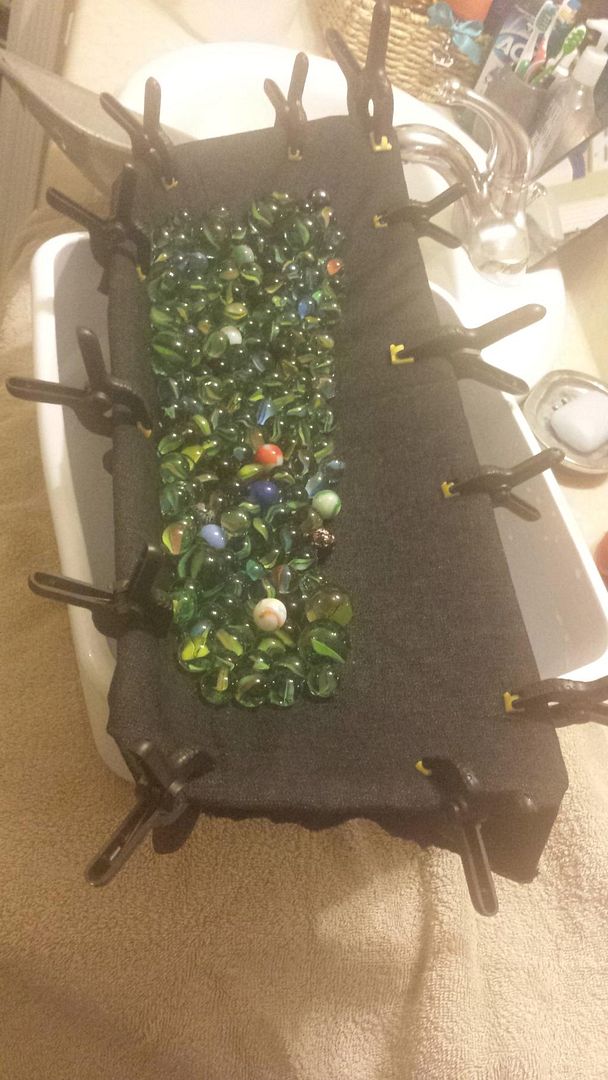 anyways that brings us up to date. i am currently looking form some 16x8 whsitler kr1's i plan to wrap them with a something like a 215/45. i personally like the meaty look far more than the stance look
anyways here is a few pics of my old hatch RIP </3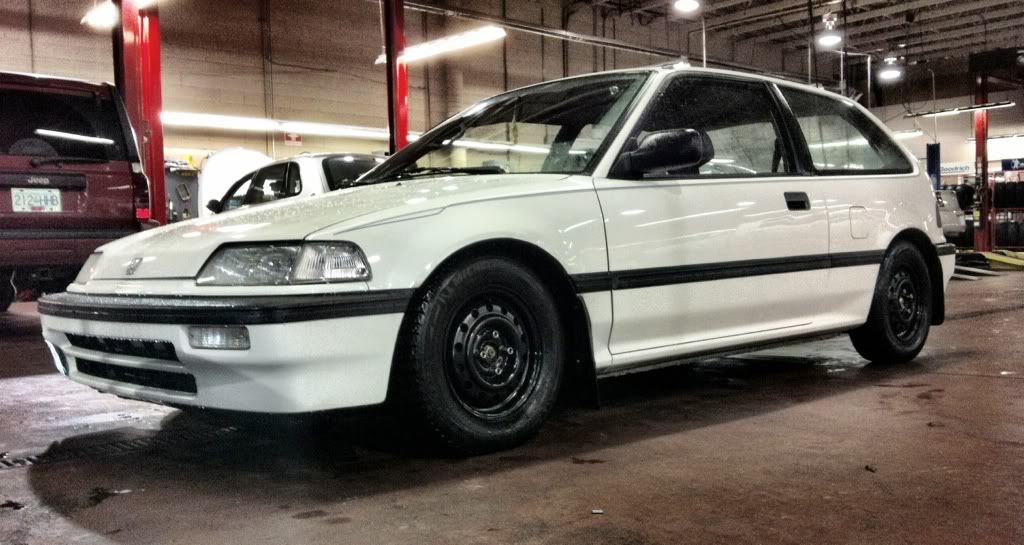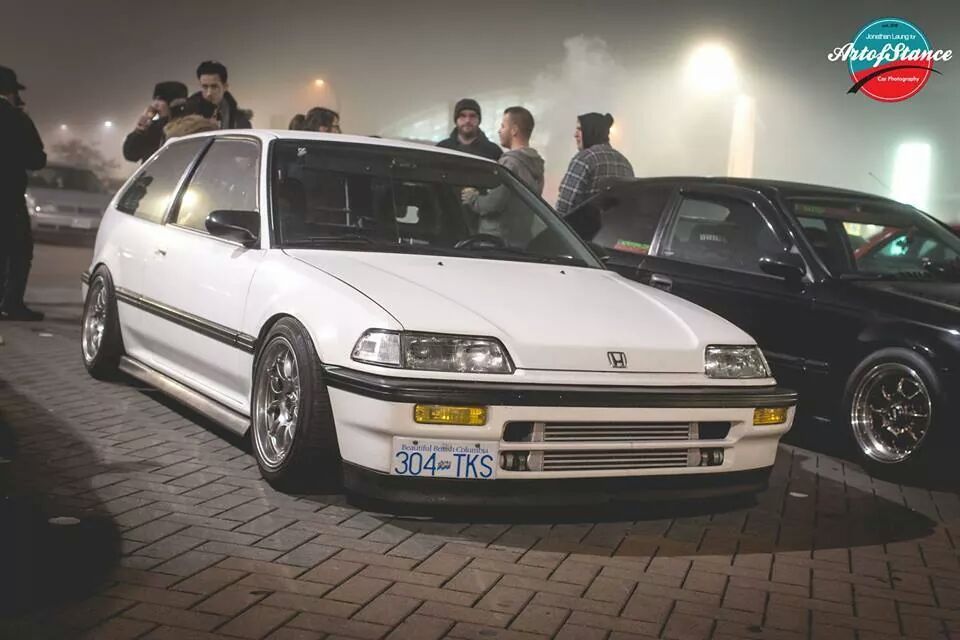 lol and yes that was a flapper on the up pipe, i had a spare hood so i decided to do this for fun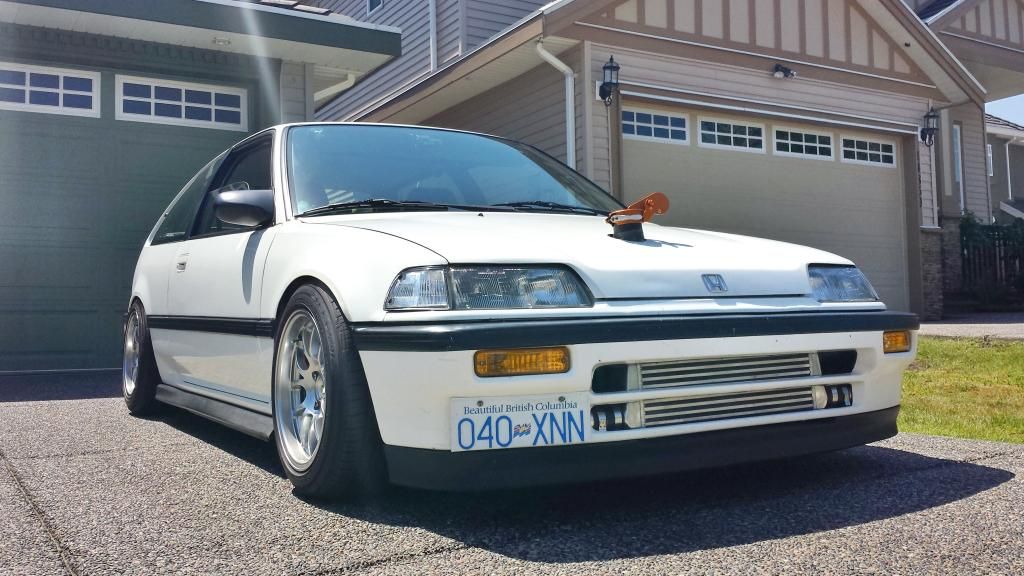 this hello has kinda turned into a build thread… but hey, who dosnt like pics!