Fast Idle Thermo Valve (FITV)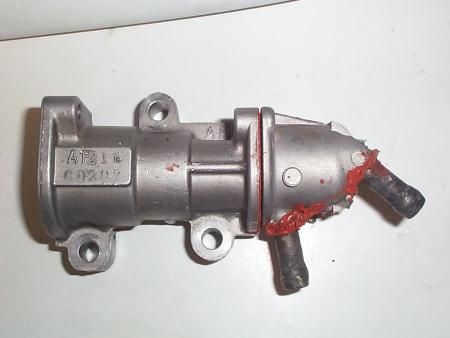 Disassembled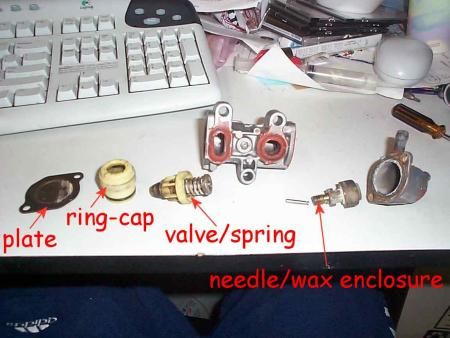 INFO: At room temperature, the wax in the enclosure is small enough so that the needle is pressed in by the spring loaded valve, thus letting in air through the ring-cap and increasing the idle. The needle sticks out 6mm. As the temperature of the coolant rises to about 150F, the wax expands and the needle eventually protrudes to about 11mm at around 220F. The force of the needle on the spring keeps the valve closed. If the ring-cap is loose, there is not enough force to keep the valve closed thus letting in air and raising the idle when not necessary. These are the steps needed to tighten the ring-cap:
[Disconnect916 informed us that he was able to just remove the plate and tighten the cap with his fingers]
The FITV is held in by three #10 bolts. Remove the bolts to release the valve from the manifold. You do not need to remove the two coolant lines unless you do not have enough room to do the next step.

The plate is held on with two #8 bolts. Remove the bolts to get the cap off. The plate will fall easily so be sure to catch it.

Now you have access to the cream colored ring-cap inside. What you want to do is tighten it. There are 2 slits along the ring. Unless you have a short screwdriver or tool that is 1" wide, you need to use two screwdrivers in unison to tighten it.

Reattach the plate and bolt the valve back on to finish the adjustment. If you removed the coolant lines, be sure to refill the coolant and bleed the system.